Crypto Closings Are Here
With cryptocurrency quickly becoming a commonplace investment, we want you to be able to utilize it to its fullest potential. Starting now, Bitcoin and Ethereum are now accepted as valid payment options for CTG closings! We're excited to spread the celebration experience and catapult the title industry into the modern era.
For more information, please reference the FAQs below!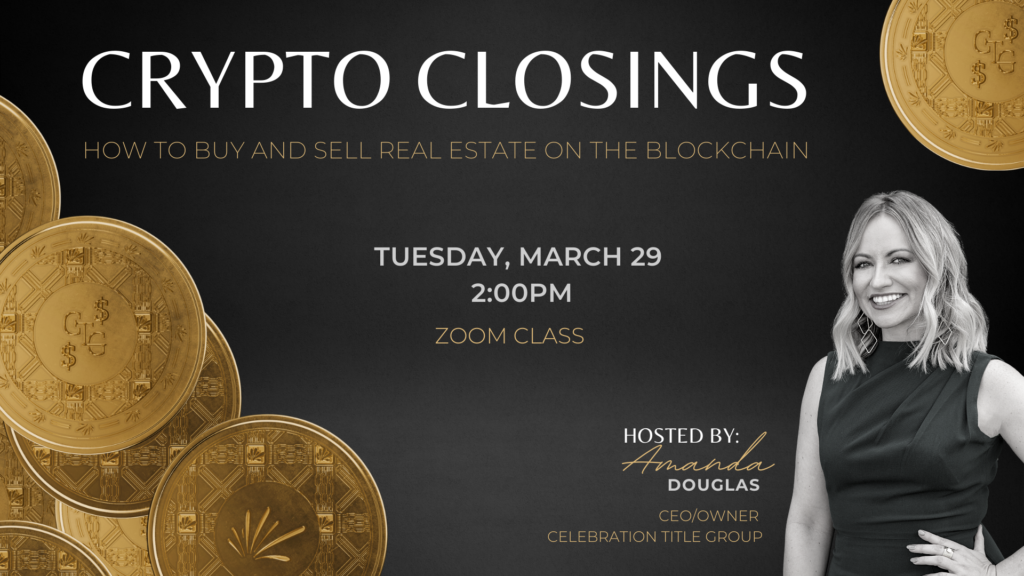 Talking Crypto with Amanda
Date: Tuesday, March 29, 2022
Time: 2:00PM – 3:00PM EST
Want to know more about the exciting process of cryptocurrency closings? Join Celebration Title Group's CEO, Amandas Douglas, LIVE on Zoom, on Tuesday, March 29th at 2pm to learn more about how you can offer your clients secure and profitable options when buying or selling real estate with cryptocurrency!

Navigate the ever-changing market with knowledge and confidence by partnering with the experts at Celebration Title Group.
Check out the Zoom Live Event here!
All About Crypto
How does cryptocurrency fit into the title process? Isn't it too digital for traditional title?

Answer: Not at all. While it has its technological complexities, at its core, cryptocurrency functions very similarly to regular money. The main difference is the market volatility, which we try to mitigate as much as possible by converting to USD at the time of deposit, and then either disbursing in USD or converting back to crypto just before disbursment.

How would someone deposit crypto into an escrow account?

Answer: We convert the crypto to standard USD before depositing it into escrow. The value of the cryptocurrency is determined at the time of deposit, and a 3% conversion fee is applied for all transactions performed through BitPay.

Where do I submit funds?

Answer: Contact your processing team for the wallet address of the desired cryptocurrency.

Back to Top
Representing Sellers
How will I receive my funds?

Answer: Either entirely in cryptocurrency or entirely in USD.

What if the buyer is using cash and I want the disbursment in cryptocurrency?

Answer: That is at the discretion of the title company or settlement agency, but will most likely result in a 2-3% conversion fee.

Will I ever have to pay a conversion fee?

Answer: Only if you are receiving funds in cryptocurrency.

Back to Top
Representing Buyers
If I have a buyer interested in using crypto assets, what should I ask when using crypto assets as proof of funds?

Answer: There are a few things you'll need to know before moving forward:

What type of wallet are they using? (Exchange, MultiSignature, Cold, Hot, etc.)
What is the Crypto Wallet Address for the source of funds? (Rewards, Investment)
Crypto Asset Type
Wallet Address

There are thousands of types of Crypto. Which ones are most widely accepted?

Answer: We currently accept BTC (Bitcoin), ETH (Ethereum), USDC (US Digital Coin), and LTC (Litecoin).

Is there a fee to use Crypto in a transaction?

Answer: Yes, we have a 2-3% conversion fee.

Why do I have to supply my crypto wallet address?

Answer: We need the crypto wallet address for currency monitoring purposes. We need to ensure that the funds used to close do not dip below the US equivalent in the desired currency if crypto is going to be used to fund the complete transaction.

Can I use cryptocurrency in tandem with traditional funding to close?

Answer: Yes, at the seller's and/or financing entity's discretion.

Back to Top